B2B Healthcare Lead Generation
Our account-based lead generation approach provides the scale, precision and human touch needed to attract and convert B2B healthcare customers.
The Singapore Healthcare market will soon reach SGD 18 billion, and Healthcare businesses are partnering with Callbox to carve out a bigger slice of this rapidly-growing industry.
Callbox creates and implements targeted marketing programs designed to convert potential customers into qualified sales leads and appointments for your healthcare company. We handle the time-consuming activities of identifying, qualifying, and converting sales prospects, so that you stay focused on nurturing relationships and closing deals.
Engage with C-Suite Healthcare Decision Makers
With our multi-touch, multi-channel marketing strategy, we engage your target decision makers across different channels (including phone, email, social, and online platforms) at crucial points in the top-of-funnel outreach cycle. This approach ensures higher response and conversion rates, and delivers overall better-quality prospects.
We also maintain a comprehensive database of decision makers from various healthcare and medical organizations in Singapore, covering an extensive cross-section of the healthcare decision-making hierarchy.
We provide you a list of target companies from a range of industries:



Dental Laboratories / Clinics

Physician Clinics (in different specialties)
We connect you with relevant decision makers and influencers:



Chief Medical Officer (CMO)

Chief Clinical Officer (CCO)

Chief Experience Officer (CXO)
More than a decade of generating high-quality Healthcare leads
Callbox has been successfully managing marketing campaigns in the Singapore healthcare space for close to a decade now, enabling us to develop relevant technical expertise in a number of complex-sale products and services such as:
Measuring and Controlling Devices

Patient Education Services
Ambulatory and Home Healthcare Services
Medical Devices / Medical Services

Compliance Consulting Services

Medical Practice Management Software and Services
Tell us about your healthcare marketing goals, and we'll explore ways to help you achieve them with the help of Callbox's brand of healthcare lead generation and appointment setting.
CASE STUDY
Callbox Keeps EMR Firm's Sales Reps Busy with Qualified Appointments
The Client is a medical software company that specializes in emergency department (ED) information systems. The company's primary product line is its flagship best-in-class ED medical record application widely used by healthcare facilities in the U.S. and Canada to improve patient care quality and operational efficiency. READ FULL STORY
91 Qualified Appointments
Top Ranking B2B Lead Generation Services
★★★★★
Ranked as a Top B2B Lead Generation Company by Clutch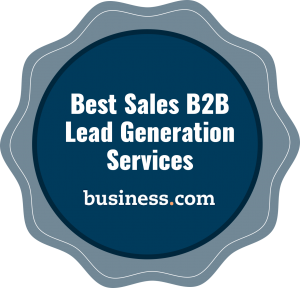 ★★★★★
Among The Best B2B Lead Generation Services according to Business.com
Get more qualified B2B Healthcare leads. Book a free consultation.