Lead Generation Services in Hong Kong
Get a steady supply of qualified, high-value B2B sales opportunities from companies in Hong Kong and all over Southeast Asia.
Connect with potential customers using targeted marketing programs in Hong Kong.
We identify your target buyers, qualify them for fit and interest, collect actionable information about them, and hand them off to you as completed leads, qualified appointments, and profiled contacts.
Our Expertise
Our marketing and sales specialists have the required expertise to engage various decision makers, from SME owners to Fortune Global 500 executives. We position your solution in the context of the business pain points and benefits that your target buyers care about.
Using a multi-touch, multi-channel marketing approach, Callbox reaches prospects through the right combinations of phone, email, social media, and online touchpoints delivered at the right time throughout the sales process.
Our Industry Experience
Callbox specializes in complex-sale B2B verticals and has gained extensive experience working with Hong Kong businesses engaged in:
Manufacturing and Distribution
Business and Professional Services
Capture opportunities in today's buyer-led B2B landscape.
We give you a full suite of B2B solutions backed by a dedicated campaign team, access to best-in-class data resources, and leading marketing technology.
Lead Generation and Telemarketing
We find and qualify prospects that match your target buyers
Lead Qualification
Sales Appointment Setting
Event Marketing
We drive interest and conversions from your event with targeted outreach and follow-up
Pre and Post-Event Marketing
Call-to-Invite
Database Solutions
We collect, verify, and compile actionable info for your marketing campaigns
Data Profiling Services
Data Verification and Cleaning
Custom List Building
Digital Marketing Solutions
We offer flexible and scalable digital marketing programs that focus on three key areas:
Website Design and Development
Search Engine Optimization (SEO)
Social Media Marketing (SMM)
Partnering with Callbox means having a dedicated team of marketing specialists that plans and runs targeted campaigns for you. We handle everything and give you all the tools to ensure success.
What Our Clients Say About Us
We're proud to have work with many of Singapore's top brands and to help them grow. Here's what they think:
For the past year, Callbox has provided us with satisfactory lead generating and lead nurturing services. They were instrumental in securing attendees for our events, scheduling client appointments and facilitating the sale of one of our benchtop systems. Their professionalism in conveying our product attributes and valued solutions to prospective customers has brought us results.
— Joachim Fong
We have built a solid working relationship over the past 2 years with Callbox. In a highly competitive market, they have demonstrated why they are a reputable partner. They have shown their commitment to being flexible and adaptable to our specific requirements with providing required market data and required resources for our APAC client campaigns. The experienced team leaders have greatly assisted with working around our specific strategies and have always shown a positive attitude to go above and beyond.
— Chak Ng
CASE STUDY
HK-Based Industrial Supplier Widens Market Lead with Callbox's Help
The Client manufactures and distributes industrial supplies such as decorative stainless steel sheets and other ornamental products used in interior fit-out projects. The company's headquarters is located in Hong Kong, and it carries out the bulk of its manufacturing operations in Guangzhou, China. READ FULL STORY
48 Qualified Appointments
42 Requests for Information
Top Ranking B2B Lead Generation Services
★★★★★
Ranked as One of the Best Sales Lead Generation Services by Comparakeet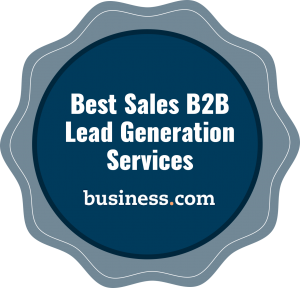 ★★★★★
Among The Best B2B Lead Generation Services according to Business.com
Start meeting your next Hong Kong customers. Contact us today.