B2B Sales Prospecting and Lead Generation
We deliver qualified sales leads and opportunities to your sales funnel.
Are you looking for ways to increase your leads? You're in the right place!
Callbox provides business opportunities to our clients all over Singapore.
Our Strategy
Our multi touch-multi channel approach – voice, email, social, web, mobile and chat allows you to be where your customers are and lets you provide choices for your customers when it comes to how they want to receive information.
Our Expertise
Our over 15 years of experience in different industries gives us an advantage in creating a solid lead generation and appointment setting campaigns for our clients. Using our own Pipeline Lead Nurture Tool and SMART Calling, we can reach out to your target prospects at the right time – when they are most likely to answer the phone and respond to your email online.
Be it Lead Generation, Appointment Setting, Customer Profiling, Event Marketing, our team of experts focus on quality because we understand what you need: high quality, sales-ready leads and appointments.
Partnering with Callbox means having a dedicated team of marketing specialists that plans and runs targeted campaigns for you. We handle everything and give you all the tools to ensure success.
What Our Clients Say About Us
We're proud to have work with many of Singapore's top brands and to help them grow. Here's what they think:
For the past year, Callbox has provided us with satisfactory lead generating and lead nurturing services. They were instrumental in securing attendees for our events, scheduling client appointments and facilitating the sale of one of our benchtop systems. Their professionalism in conveying our product attributes and valued solutions to prospective customers has brought us results.
— Joachim Fong
We have built a solid working relationship over the past 2 years with Callbox. In a highly competitive market, they have demonstrated why they are a reputable partner. They have shown their commitment to being flexible and adaptable to our specific requirements with providing required market data and required resources for our APAC client campaigns. The experienced team leaders have greatly assisted with working around our specific strategies and have always shown a positive attitude to go above and beyond.
— Chak Ng
How We Help Businesses Succeed
As your primary B2B lead generation agency in Singapore, we use a multi-touch multi-channel marketing approach to find and reach your target prospects, engage and nurture them with personalized messaging, and finally convert them into qualified appointments.
Email
Send Personalized Emails
Send Event-triggered Emails
Voice
Call Opens from Intro Email
Call Opens from Follow-up Email
Social
Invite to Connect
Send Follow-up Email
Chat
24/7 Sales Chat Support
Forward Qualified Leads
Follow-up Warm Prospects via Call & Email
Website
Display Banner Ads to Target Prospects
Identify Prospects that Visit Your Website
Follow-up Prospects via Call & Email
Mobile
Send SMS Notifications
CASE STUDY
Targeted Lead Generation Speeds Up SG Digital Marketing Firm's Expansion
The three-month campaign ran for a total of 66 days spanning much of Q3 2018 and early October of that year. The results met the Client's expectations in a number of key performance areas. READ FULL STORY
48 Qualified Appointments
116 Requests for Information
Top Ranking B2B Lead Generation Services
★★★★★
Ranked as One of the Best Sales Lead Generation Services by Comparakeet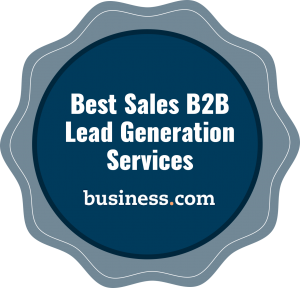 ★★★★★
Among The Best B2B Lead Generation Services according to Business.com
Get more B2B Singapore leads. Enquire now.