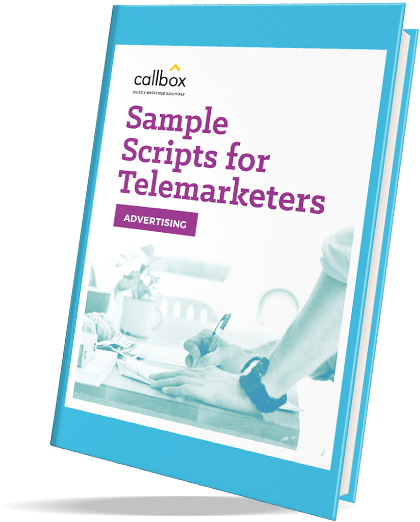 Download our free ebook:
Sample Telemarketing Scripts for ADVERTISING
Subscribe to our newsletter and get your Sample Telemarketing Script for FREE!
Scripts are used as guide for telemarketers to deliver the right message to their prospects.
Our sample scripts for the Advertising Industry are ready-to-use templates with sample call flow for different situations – from your first encounter with the Gatekeeper until your call is transferred to the right person within their organization.
Scripts included are:
Appointment Setting Script
Call-to-Invite Script
Data Profiling Script
Boost your sales team's confidence when talking to your prospects using the rebuttals for some of the most common objections that you can will encounter during your call.
Get your copy:
Fill up the form below and you'll receive an email with the link to the eBook.
We keep any info you share with us private and confidential. For more on how we process and protect your data, please review Callbox's Privacy Policy
About

With over 15 years of experience, Callbox has established itself as a leading global provider of outsourced B2B marketing and sales support services, serving clients across various industries in the APAC region and worldwide.
Services
Regions
Contact us

1 Scotts Road #24-10

,

228208

Shaw Centre Singapore
Award-Winning Lead Gen Agency