Healthcare SaaS Vendor's Pipeline Growth Jumps 2-Fold in 3-Pronged Campaign
ABOUT
The Client provides NLP-based computer-assisted coding (CAC), clinical documentation improvement (CDI), compliance auditing, and analytics solutions to hospitals and healthcare facilities all over the United States. The company also offers medical coding, transcription, and revenue cycle management services.



TARGET INDUSTRIES
Hospitals
TARGET PROSPECTS
HIM Director, CIO, CFO, Transcription, Coding supervisor, CDI supervisor
The Client, a provider of NLP-enabled medical coding and health information management SaaS applications, routinely outsources initial prospecting activities to third-party agencies. With a sales cycle that can take more than six months to complete, the company believes its in-house sales team is best put to use nurturing and following up qualified opportunities instead of doing cold outreach.
The Client, however, has had mixed results with different outsourced marketing companies so far. The previous outsourced campaigns often ran into issues such as:
To support its recent refocus and product rollout, the Client planned a series of marketing initiatives designed to:
Prospect lists that need further profiling and updating

Not enough time given to product knowledge training

High percentage of no-show appointments

Appointments not properly vetted and qualified
This led the Client to briefly reassign much of the prospecting work to its in-house reps. But this move also produced underwhelming results. Scheduled appointments fell to 6-8 a month, and the Client saw a corresponding drop in the number of proposals sent.
It was clear that outsourced prospecting made more business sense for the Client, but the company needed to make sure that the agency it partnered with should focus on both volume and quality of sales opportunities being delivered.
RESULTS WITHIN TWELVE WEEKS
• Completed a 3-month, US-wide appointment setting program for a healthcare SaaS company that exceeded all key campaign objectives
• Enabled Client to gain a 2-fold expansion in the number of qualified appointments added to the pipeline
• Paved the way for Client's reps to have more meaningful conversations with prospects and to send more high-value proposals
The Client chose Callbox after a thorough review process, pointing out Callbox's multi-channel, multi-touch approach at prospecting as a crucial factor. Callbox's own track record and a growing body of industry research show that this strategy tends to produce higher quality prospects at scale.
In addition, Callbox also had extensive technical background in complex-sale products such as healthcare SaaS solutions, which meant a more favorable learning curve for the agents and faster campaign deployment.
The Callbox team then collaborated with the Client to work out a campaign plan. The plan proposed a three-month appointment setting program that combined phone calls, emails, and social media, with the goal of setting up phone demos with qualified prospects who want to learn more about the Client's SaaS offerings.

1. Callbox identified potential hospitals to target all over the United States and segmented the records into small, medium, and large institutions based on the number of hospital beds available in each facility.

2. The Callbox team then pinpointed which decision makers to contact in each hospital, which included roles such as HIM directors, CIOs, CFOs, and persons in charge of clinical documentation.

3. Agents then contacted each prospect to qualify them as leads or schedule them for a phone demo with the Client's reps.



1. The campaign team created email templates for the different touches in the prospecting cadence, including initial outreach, targeted send-outs, and a series of follow-up emails.

2. Intro emails warm up prospects and help the team identify which ones to prioritize, while targeted send-outs allow agents to distribute the Client's marketing materials to interested prospects.

3. The Client also helped set the touch points in the prospecting cadence through Lead Nurture, a built-in drag-and-drop marketing automation tool within Callbox Pipeline, Callbox's proprietary lead management and CRM platform.




1. LinkedIn provided another set of touch points to nurture and engage prospects further.

2. The campaign team's social media specialists expanded the Client's LinkedIn connections, joined relevant groups, and reached out to prospects via InMails.

3. The Callbox team also collected additional prospect data via LinkedIn to further enrich the contact and appointment information handed off to the Client.
The three-month pilot campaign ran for a total of 66 days. As with most pilot campaigns at Callbox, the first few weeks were spent laying down the groundwork for appointment setting by warming up prospects and initiating contact through emails and social media activities. Most of the appointments were generated after the first full month of the campaign.
The campaign's email marketing activities produced open rates of 24.2%, click-through rates of 11.2%, and hard bounces of 0.04%, which remained roughly in line with the company's benchmarks. The social media activities, meanwhile, generated 759 new connections and reached a 12.5% InMail response rate.
The Callbox team handed off a total of 47 qualified appointments to the Client's reps during the three-month pilot campaign. This represented more than a two-fold increase over what its internal sales team could typically produce in a comparable period.
Out of the 47 new appointments, 16 and 20 were generated in the second and third months, respectively, showing a clear uptrend. This strongly indicates that the rapport-building and lead nurturing efforts during the campaign's early stages are turning into measurable results.
To build on this momentum, the Client is renewing its contract with Callbox for another three months.
Get More Singapore Software Leads. Enquire Now.
https://www.callbox.com.sg/wp-content/uploads/2021/09/CS_SW_Healthcare-SaaS-Vendors-Pipeline-Growth-Jumps-2-Fold-in-3-Pronged-Campaign-0.jpg
450
800
callbox
https://www.callbox.com.sg/wp-content/uploads/2021/07/callbox-logo.svg
callbox
2018-07-31 16:05:33
2023-04-27 16:58:10
Healthcare SaaS Vendor's Pipeline Growth Jumps 2-Fold in 3-Pronged Campaign
The Client
The Client is a medical software company that specializes in emergency department (ED) information systems. The company's primary product line is its flagship best-in-class ED medical record application widely used by healthcare facilities in the U.S. and Canada to improve patient care quality and operational efficiency.
The Client sells its trademark high-performance ED software system to hospitals all over the United States and Canada. The browser-based application helps improve ED performance with a full suite of operational and management tools. It also provides interoperability with the hospital's EMR and other healthcare information systems involved in the patient's care.
The company's main product enjoys significant brand equity, but as competition continues to tighten in the medical software space, the Client has adopted a more aggressive growth strategy.
This recent shift is starting to overstretch the company's marketing and sales resources. Their inside sales team has consistently been unable to meet the new prospecting targets, especially in terms of call volumes, number of prospects reached, and early-stage conversions. The new strategy also reveals gaps in the Client's marketing data, with record counts often falling short of campaign requirements.
That's why the company wants to outsource the bulk of its prospecting activities to a third-party agency. These activities include initial outreach, lead qualification, desk research, data validation, and appointment setting.
The Client, however, requires a marketing partner that can seamlessly become part of its sales process. In particular, the company wants to hire a provider with deep domain knowledge of healthcare information systems in order to engage prospects better.
The Callbox Solution
Callbox's industry-specific, integrated appointment setting solutions placed it on top of the Client's shortlist. But it was Callbox's lengthy track record of launching successful campaigns for medical software companies that convinced the Client to choose Callbox as its marketing partner.
The Client originally signed up for a monthly appointment setting contract, but after four months opted for a full-year campaign, as the project consistently exceeded requirements in terms of quantity and quality of appointments. The campaign covered prospecting activities the Client wanted to farm out, including:
Appointment Setting
1. Callbox compiled and profiled the campaign contact list using the parameters specified by the Client.
2. The Callbox team also prepared the call script which included probing questions to qualify the prospect and set a follow-up meeting.
3. Contacts who agreed to a scheduled phone meeting with a Client's rep were labeled as qualified appointments.
Email Marketing
1. The Callbox team created and tested two email templates to be used in the campaign: the intro email and the targeted send-out.
2. The intro email primed prospects for upcoming campaign touch points.
3. The template for targeted send-outs was used to distribute other marketing collaterals from the Client.
Social Media
1. As part of Callbox's multi-channel approach, the team engaged positive contacts by connecting with them on LinkedIn.
2. The campaign also relied on prospect information collected and verified using LinkedIn.
3. LinkedIn also served as a tool to increase the Client's online visibility and brand.
Results
The campaign has now completed a total of four months' worth of appointment setting activities and is currently in its 5th month.
Callbox's multi-touch, multi-channel appointment setting programs typically devote the first couple of weeks to warming up and nurturing prospects. That's why it's not uncommon to see the opening two or so weeks generate mainly email or social media results:
• Email reply rate: 3.77%
• Email conversions: 7
• Linkedin connections: 234
• Linkedin groups: 15
It's only after the first couple of weeks that the campaign generated appointments in earnest, as shown below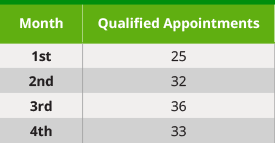 The campaign has so far delivered a total of 91 qualified appointments. While the Client hasn't disclosed how many of these meetings their reps can send proposals to or how many they expect to turn into customers, the Client is very impressed with both the quantity and quality of appointments generated. In fact, the Client has recently signed a full-year contract with Callbox
https://www.callbox.com.sg/wp-content/uploads/2021/09/CS_HC_Callbox-Keeps-EMR-Firms-Sales-Reps-Busy-with-Qualified-Appointments-0.jpg
450
800
Jayden Chu
https://www.callbox.com.sg/wp-content/uploads/2021/07/callbox-logo.svg
Jayden Chu
2018-03-02 13:25:15
2023-04-27 16:30:25
Callbox Keeps EMR Firm's Sales Reps Busy with Qualified Appointments
Health And Wellness Guru Energized by Callbox Success
ABOUT
The Client is a corporate wellness provider giving quality educational trainings and programmes to boost organizational wellness.
Not more than a decade ago, corporate wellness was not exactly a popular program for businesses in Singapore. So when the Client started the business, it drew all the courage to pursue all possible marketing tactics that would deliver their message to target decision makers – corporate wellness will boost the business.
The Client's search for the best marketing tools that would carry out their goals came as a challenge until one of their business partners referred a seasoned lead generation provider that carries all sales and marketing strategies and tools needed which resolved the issue – Callbox.
RESULTS WITHIN TWELVE WEEKS
• Validated and profiled contact details via Customer Profiling campaign
• Filtered most active contacts via the Pipeline Lead Nurture Tool
• Streamlined follow up calls achieved via the Smart calling Process

1. In order to hit the right prospects, the Client's database went through customer profiling campaign.
2. Company and business names, addresses, phone numbers, email addresses, social media accounts and all other contact details were validated to ensure list accuracy.
3. The Callbox team utilized the Pipeline Lead Nurture Tool to send initial copies of the Client's program overview mainly containing teasers (discussions and questions) about issues in the business that were precisely addressable thru wellness programs.
4. Active responses like opened emails, website visits, clicked links, and queries were tracked via the Pipeline Lead Nurture Tool and saved for follow-up.
5. Invalid emails (bounces) and contact details were updated upon speaking with the decision maker.

1. Through Callbox's SMART Calling process, active contacts that were filtered from the Customer Profiling campaign were called by the Callbox team to share the Client's services especially about wellness in the workplace.
2. Callers asked probing questions about underlying issues or problems that were unrecognized but may have triggered organizational differences and caused a domino effect on the business.
3. Prospects who agreed to discuss were set as appointments.
RESULTS AND RETURN OF INVESTMENT
The first four weeks brought a surprising result to the wellness guru with 13 appointments, opposing their hunch of getting only five or less. At the end of the eighth week, a slight decline on the number of leads with 12 appointments but took a big leap at the close of the twelfth week with 16 appointments. The sixteenth week topped at 18 appointments.
With the satisfactory results from the first campaign in 2014, the Client decided to run another round in 2015 and was equally impressed with the results.
The Callbox team had become very familiar with the campaign which led to better results with 21 appointments in the first four weeks. Calling activities were swerved to the Malaysia market at the start of the fifth week which brought in 25 appointments at the end of the eighth week. The course got a bit bumpy as the the twelfth week closed on 22 appointments and 13 on the sixteenth week.
Calls were back in focus on the Singapore market at the start of the seventeenth week and got on the fast track again with 28 appointments at the close of the twentieth week.
https://www.callbox.com.sg/wp-content/uploads/2021/09/CS_HC_Health-And-Wellness-Guru-Energized-by-Callbox-Success-0.jpg
450
800
Jayden Chu
https://www.callbox.com.sg/wp-content/uploads/2021/07/callbox-logo.svg
Jayden Chu
2017-09-08 13:29:23
2023-04-27 16:57:07
Health And Wellness Guru Energized by Callbox Success
All-Time High For Physiotherapy Systems Leader with Callbox
ABOUT
The Client is a 30-year old leading manufacturer of physiotherapy systems in Europe. Some key components of their product offering are innovative cardiology products, software and diagnostics products.
TARGET INDUSTRIES
Physical Therapy Clinics & Chiropractic Offices (9 employees and below)
TARGET PROSPECTS
Business Owners, Head Physical Therapist, Doctor
TARGET LOCATIONS
USA
The physiotherapy leader is intensively involved in every aspect of the business, moreso the production, and provides personal attention each step of the way. Their latest product is Single Use Adhesive Electrodes, an electrotherapy treatment that would benefit users by saving time, no storing and cleaning between treatments and avoiding cross contamination.
This family-run award-winning and customer-oriented physiotherapy systems manufacturer has been reaping success for years now but their new product which projects a higher standard compared with the existing ones required a more advanced, fast and comprehensive marketing program that would help them cope with the competition – enter the Callbox Multi-Touch Multi-Channel Lead Generation Program.
The Client requested Callbox to maximize the capacity of the Multi Channel Marketing Program by utilizing the Pipeline Lead Nurture Tool in communicating with prospects at the time when they are most available.
Callbox called the target decision makers to introduce the new product, Single Use Adhesive Electrodes. Prospects who agreed to receive a follow-up call from the Client's sales representatives were further handled by the Client's sales representatives themselves to further explain the product's features and benefits which is instrumental in drafting the best project design for the prospect company.
Using the Pipeline Lead Nurture Tool, the Callbox team sent out introductory emails to prospects only to verify the validity of the contact details. Replies, website clicked and queries were tracked in real time for the agent to call.
After the call, prospects who requested for information were then reported to the Client to be sent brochures and forms as reference for the sales representatives in tailor-fitting a project design for them.
The initial result of the campaign was a pleasant surprise for the Client as Callbox produced 96 Appointments just halfway through the campaign period (middle of the second month of a 3-month campaign). Towards the end of the campaign, that number doubled to 192 Appointments, 72 of which were warm follow-ups.
The physiotherapy manufacturer leader thought they've had enough successes in the past and that they've ran the best marketing strategies in the business, but was in awe when the Callbox team pulled through with lofty results for the campaign. Their decision to partner up with the best in lead generation led them to an all-time high. Just goes to show how much proven expertise can make a difference.
https://www.callbox.com.sg/wp-content/uploads/2021/09/CS_HC_All-Time-High-For-Physiotherapy-Systems-Leader-with-Callbox-0.jpg
450
800
Jayden Chu
https://www.callbox.com.sg/wp-content/uploads/2021/07/callbox-logo.svg
Jayden Chu
2016-11-24 06:03:51
2023-04-27 16:00:14
All-Time High For Physiotherapy Systems Leader with Callbox
About

With over 15 years of experience, Callbox has established itself as a leading global provider of outsourced B2B marketing and sales support services, serving clients across various industries in the APAC region and worldwide.
Services
Regions
Contact us

1 Scotts Road #24-10

,

228208

Shaw Centre Singapore
Award-Winning Lead Gen Agency
This site uses cookies. By continuing to browse the site, you are agreeing to our use of cookies
OK
Cookie and Privacy Settings
How we use cookies
We may request cookies to be set on your device. We use cookies to let us know when you visit our websites, how you interact with us, to enrich your user experience, and to customize your relationship with our website.
Click on the different category headings to find out more. You can also change some of your preferences. Note that blocking some types of cookies may impact your experience on our websites and the services we are able to offer.
Essential Website Cookies
These cookies are strictly necessary to provide you with services available through our website and to use some of its features.
Because these cookies are strictly necessary to deliver the website, refuseing them will have impact how our site functions. You always can block or delete cookies by changing your browser settings and force blocking all cookies on this website. But this will always prompt you to accept/refuse cookies when revisiting our site.
We fully respect if you want to refuse cookies but to avoid asking you again and again kindly allow us to store a cookie for that. You are free to opt out any time or opt in for other cookies to get a better experience. If you refuse cookies we will remove all set cookies in our domain.
We provide you with a list of stored cookies on your computer in our domain so you can check what we stored. Due to security reasons we are not able to show or modify cookies from other domains. You can check these in your browser security settings.
Other external services
We also use different external services like Google Webfonts, Google Maps, and external Video providers. Since these providers may collect personal data like your IP address we allow you to block them here. Please be aware that this might heavily reduce the functionality and appearance of our site. Changes will take effect once you reload the page.
Google Webfont Settings:
Google Map Settings:
Google reCaptcha Settings:
Vimeo and Youtube video embeds:
Privacy Policy
You can read about our cookies and privacy settings in detail on our Privacy Policy Page.
Privacy Policy
Scroll to top