Mobile Platform Deepens Pool of Potential Merchant Partners in SG Campaign
ABOUT
The Client is the Singapore office of a South Korea-based Internet platform developer that specializes in e-commerce, online-to-offline (O2O) solutions, and digital marketing. The company is a fully-owned subsidiary of a Fortune Global 500 firm with 2,300 employees and offices in eight countries.



TARGET INDUSTRIES
Retailers, Food and Drinking Places
TARGET PROSPECTS
Owner, Restaurant Manager, Marketing Manager, General Manager
Headquartered in South Korea, The Client established its Singapore office in 2012, providing a suite of integrated marketplace platforms tailored for the local online and mobile commerce segments. This included its flagship social discovery app launched in 2013 that allowed users to share and recommend places of interest in Singapore.
One of the app's key selling points was that it featured an extensive network of merchant partners that actively engaged users with exclusive offers and promos. The app gave participating merchants an added channel for having real-time conversations with customers, improving brand visibility through user-generated content and micro-influencers, as well as gaining valuable customer insights and contextual marketing information.
Several months after releasing the app, the Client wanted to accelerate the growth of its merchant partner network in response to very positive user adoption numbers. This led the company to consider implementing targeted marketing tactics alongside its inbound marketing efforts.
But with little experience in direct marketing and much of its marketing resources already tied up in existing programs, the Client realized the best way forward was to work with a third-party provider that specialized in targeted outreach.
RESULTS WITHIN TWELVE WEEKS
• Launched a multi-touch campaign that helped accelerate the Client's partner acquisition efforts
• Increased the number of potential merchant partners from SG retailers in the Client's pipeline
• Expanded both branding and revenue potential with high decision maker reach rates
The Client chose Callbox after reviewing a shortlist of marketing agencies, pointing to Callbox's long-term experience deploying successful campaigns in Singapore as the deciding factor.
Callbox and the Client then developed a campaign plan that combined emails and phone calls delivered as a sequence of multiple touches. The main campaign objectives included:
Engaging decision makers to gauge fit and interest

Booking face-to-face meetings with qualified prospects

Collecting information needed in the Client's sales process

1. The target prospects included business owners, restaurant managers, marketing managers, and general managers from retailers in Singapore.

2. Callbox prepared all campaign materials including the call script and campaign list, which were reviewed and approved by the Client.

3. The Callbox team maximized decision maker reach rates by leveraging SMART Calling, Callbox's proprietary call management system.



1. The campaign's first touch point was an intro email that primed prospects up for the sequence of one-on-one calls. Follow-up emails and targeted send-outs (for distributing additional marketing materials) were also used at later stages in the campaign.

2. The Callbox team created and tested all email materials including templates, copies, and landing pages. The team also handled replies and prospect requests.

3. The Client monitored the entire campaign (including both email marketing and phone-based appointment setting) through Pipeline CRM, Callbox's lead management and marketing automation tool.
Callbox completed the campaign in six months (or 132 days at 22 days per month), and handed off a total of 129 qualified appointments and 302 verified leads to the Client.
Since the campaign followed a multi-touch cadence that started with email activities designed to initiate contact, the Callbox team only began generating appointments near the end of the first month. Once the nurtured contacts began converting, the campaign was able to consistently deliver between 18 to 25 qualified appointments each month.
The Callbox team also achieved a relatively high decision maker reach rate of around 24% and, by the end of the campaign, the team connected with a total of 3,045 decision makers.
The Client projected that 80% of the appointments generated in the campaign would convert into qualified sales opportunities, with 60% turning into signups. That translates to 62 potential new merchant partners for the Client's social discovery app.
Get More Singapore Software Leads. Enquire Now.
https://www.callbox.com.sg/wp-content/uploads/2019/02/CS_SW_Mobile-Platform-Deepens-Pool-of-Potential-Merchant-Partners-in-SG-Campaign.jpg
450
800
jayden
https://www.callbox.com.sg/wp-content/uploads/2020/07/callbox-logo.png
jayden
2018-10-25 13:36:41
2019-04-15 12:04:06
Mobile Platform Deepens Pool of Potential Merchant Partners in SG Campaign
SG-based 3PL Company Doubles Sales Appointments, Gears Up For Expansion
ABOUT
The Client is a Singapore-based third-party logistics (3PL) provider that offers warehousing, distribution, transportation, and freight management services primarily to freight forwarders and shippers. The company also provides value-added services including crating, labeling, sorting, sub-assembly, and fumigation.



TARGET INDUSTRIES
Freight Forwarders (doing cross-border trade), Shippers (for Manufacturing, Pharmaceuticals, Automotive, F&B, Electronics, Wholesale Trade, etc.)
TARGET PROSPECTS
For Freight Forwarders: Air/Sea Freight Division Manager;
For Shippers: Trade Compliance Manager, Shipping Officer, Procurement Manager, Supply Chain Manager, Controller, Persons in Charge of Imports/Exports
Third-party logistics (3PL) is the process of outsourcing part or all of a business's supply chain and logistics operations to another company. As supply chains become more complex, many shippers now find it more cost-effective to work with 3PL service providers that take care of transport, warehousing, customs brokerage, and freight forwarding—instead of doing these activities in-house.
In Singapore, the 3PL market makes up over $3 billion (or 12%) of the country's logistics industry, with the majority of providers competing in saturated segments such as automotive, retail, and electronics. For its part, the Client chiefly targets international freight forwarders and shippers from a wide range of industries.
As part of its effort to improve the company's market position, the Client looked into expanding the outbound component of its customer acquisition program. The bulk of its lead generation initiatives were mostly tied up in inbound tactics, but the Client wanted a more proactive approach and a bigger role for outbound in its marketing mix.
The Client teamed up with Callbox to deploy an outbound prospecting program that would complement the company's current marketing efforts. Under its existing strategy, the Client averaged 8 to 10 appointments each month, and the company wanted Callbox's help to develop a new lead source and increase the flow of qualified prospects into their pipeline.
Completed a highly-successful 3-month integrated appointment setting campaign for an SG logistics company

Enabled Client's sales team to follow up on 2.5 times more in-person and phone meetings

Set the stage for Client's expansion into fiercely-competitive 3PL segments
RESULTS WITHIN TWELVE WEEKS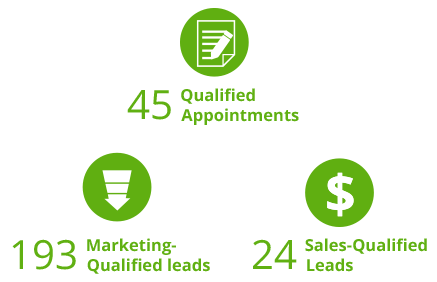 Callbox and the Client worked out a plan for a three-month appointment setting campaign. The strategy implemented an outreach cadence that combined targeted email touches and live phone conversations with the main goal of identifying and scheduling qualified prospects for an introductory meeting with the company's reps.

Callbox helped the Client refine its target customer profile and ideal decision makers so that the Callbox team could compile a complete and accurate campaign contact list.
Calling agents received basic product training on the Client's specialized logistics solutions, since the Client wanted the team to gain some level of technical familiarity with its offerings.
Callbox and the Client put together the call script which was tailored to identify fit and to generate in-person/phone meetings with qualified prospects.
The campaign relied on targeted emails to initiate contact and to nurture prospects throughout the outreach cycle.
Emails helped the campaign team prioritize which prospects to engage and to maximize conversions through timely responses.
Callbox crafted and tested the templates, landing pages, and other campaign materials used in email marketing. The team maintained delivery, open, click-through, and bounce rates within the set benchmarks.
The three-month campaign met all the Client's expectations, particularly in terms of the number of qualified appointments delivered and net new prospects added into the Client's pipeline:
45 qualified appointments

193 marketing-qualified leads (MQLs)

24 sales-qualified leads (SQLs)
The first few touches in the campaign were spent warming up the target prospects and learning about their current logistics processes. Accordingly, it was only near the end of the first month when the campaign started converting prospects into leads and appointments.
The 45 total appointments generated in the three-month outbound campaign meant that the Client's reps were now handling 2.5 times more sales meetings. The Client was very pleased with the results that they renewed for another campaign, targeting freight forwarders and shippers outside of Singapore.
At time of writing, the new campaign is in its 6th month, and the Client has added Callbox as a long-term marketing partner for its outbound prospecting initiatives.
https://www.callbox.com.sg/wp-content/uploads/2019/02/CS_LOG_SG-based-3PL-Company-Doubles-Sales-Appointments-Gears-Up-For-Expansion.jpg
450
800
callbox
https://www.callbox.com.sg/wp-content/uploads/2020/07/callbox-logo.png
callbox
2018-09-28 14:57:33
2020-02-12 12:45:05
SG-based 3PL Company Doubles Sales Appointments, Gears Up For Expansion
Callbox Seamlessly Pivots Campaign as HR Software Firm Rebrands
ABOUT
The Client is the Asia-Pacific arm of a UK-based business services and software company that offers cloud-enabled solutions for recruitment and talent acquisition. The company primarily sells to mid and large-sized US and UK businesses across different industries, and is looking to increase its presence in the APAC market after carrying out a recent business pivot.



TARGET INDUSTRIES
Agriculture, Mining, Construction, Manufacturing, Transportation & Public Utilities, Wholesale and Retail Trade, Finance, Insurance, Real Estate Services, Public Administration
With over 20 years' experience providing award-winning recruitment software to the likes of Morgan Stanley, NBC Universal, and other high-profile customers, the Client recently underwent a major strategic pivot. The shift in focus sought to realign the Client's various offerings in its US, UK, and APAC divisions under a single global identity.
As part of its new business direction, the company also unveiled a new suite of enhanced talent acquisition tools. This move aimed to further strengthen the Client's position as a key technology partner for modern HR and recruitment teams.
To support its recent refocus and product rollout, the Client planned a series of marketing initiatives designed to:
Increase awareness of its new value proposition through live events, especially in markets that still offered room for growth

Generate opportunities with companies that show a clear need and fit for the Client's offerings through targeted marketing campaigns
The plan started out with Southeast Asia as its main priority. The company decided to look for a third-party agency that can help it quickly gain a foothold in all three markets
RESULTS WITHIN TWELVE WEEKS
• Launched a 2-part, APAC-focused campaign that covered database profiling and appointment setting for a UK-based HR software company
• Kept campaign seamlessly on track as Client's objectives shifted due to ongoing rebranding efforts
• Accelerated Client's expansion into Singapore, Hong Kong, and Malaysia with qualified sales appointments, profiled contacts and potential accounts
Callbox partnered with the Client and put together a campaign plan jointly with the company. The plan originally consisted of an event marketing phase and an appointment setting phase. The event marketing part of the campaign was intended to boost signups for the Client's series of webinars scheduled for the second and third quarters.
But the company's ongoing business pivot meant the campaign requirements could change at any time. Prior to the start of the event marketing phase, the Client decided to prioritize targeted opportunity generation through direct outreach instead of live events.
As a result, both Callbox and the Client agreed to replace event marketing with a thorough database profiling program for the campaign's first stage. Without altering the campaign timeline or incurring delays, the Callbox team put together a revised campaign plan which the Client reviewed and approved well before the original starting date.

1. The Client submitted a list of 300 companies (100 from each target country) for Callbox to profile.

2. Callbox then identified all relevant decision makers (persons in charge of HR, recruitment, and talent acquisition) from each company, using records from Callbox's in-house database and through desk research.

3. Callbox also provided additional contacts from other organizations that matched the Client's target customer profile.




1. Callbox carried out integrated appointment setting that combined email and phone calls to connect with and screen prospects for fit and purchase intent.

2. The Callbox team prepared all campaign materials in close collaboration with the Client.

3. During the first month of appointment setting activities, the Client rebranded under a new name and identity. Callbox seamlessly pivoted the whole campaign without any disruptions to the project timeline.
The two-part campaign has already completed the Database Profiling phase and is currently in the second month of the Appointment Setting stage. The profiling activities (which ran for one month) resulted in 565 contacts profiled and 147 potential accounts identified.
The campaign's appointment setting leg has so far delivered 12 qualified appointments after one month of activities. Most of the appointments were generated near the end of the third week as the initial outreach and lead nurturing efforts done at the start of the program began converting.
Get More Singapore Software Leads. Enquire Now.
https://www.callbox.com.sg/wp-content/uploads/2018/07/CS_SW_Callbox-Seamlessly-Pivots-Campaign-as-HR-Software-Firm-Rebrands.jpg
450
800
callbox
https://www.callbox.com.sg/wp-content/uploads/2020/07/callbox-logo.png
callbox
2018-07-31 15:38:42
2019-04-15 12:20:40
Callbox Seamlessly Pivots Campaign as HR Software Firm Rebrands
Expat-Focused Financial Planning Firm Expands in Niche SG Market
ABOUT
The Client is a Singapore-based financial advisory firm that specializes in tax, investment, pension, and estate planning for British expatriates living in SG.



TARGET INDUSTRIES
Consumers
TARGET PROSPECTS
UK Expatriates
The Client offers several lines of financial planning services to expats currently working and residing in Singapore. The firm's client portfolio primarily consists of UK expatriates, which has seen a steady year-over-year growth since its inception. The Client has also received a number of industry awards and recognition as one of Singapore's leading and most trusted financial advisory groups.
In 2016, the firm underwent administrative and operational streamlining. One area impacted by the changes was customer acquisition. The new business development strategy assigned prospecting and nurturing responsibilities into a single in-house team, which sometimes resulted in the same individual doing the tasks of researching prospects, screening contacts, booking introductory meetings, and following up on opportunities.
The client wants its business development team to concentrate on bottom-of-funnel activities, so that they can devote more time and effort to crucial points in the conversion funnel. The firm plans to delegate most activities in its current prospecting process to a reputable third-party provider.
RESULTS WITHIN EIGHT WEEKS
• Completed a highly successful campaign for an SG financial advisory group targeting a niche market
• Enhanced quality of sales conversations by enabling the Client's in-house team to concentrate on bottom-of-funnel engagement
• Accelerated the Client's conversion cycle through a combination of personalized emails and targeted calls
The Client chose Callbox after evaluating a number of options, citing Callbox's extensive project portfolio of Singapore campaigns along with its flexibility to seamlessly integrate into the Client's ongoing business development workflow.
Callbox then closely collaborated with the Client to develop a campaign plan that combines personalized email touches with targeted phone calls to:
Identify UK expatriates who fit the Client's ideal customer profile

Qualify contacts based on interest

Collect and verify prospect data
Some key campaign activities include:

1. The Client provided its own contact list to be used in the campaign, which was then thoroughly profiled by the Callbox team.

2. The Client's list was cross-matched with records in Callbox's in-house database as well as validated using external data sources.

3. Before being deployed, the list underwent a final round of data scrubbing where inaccurate, duplicate, and missing records were fixed. The updated list was handed over to the Client at the end of the campaign..



1. The Client also provided its own outreach email template, which was then reviewed by the Callbox team.

2. Callbox prepared the rest of the templates for the campaign, including copies for follow-ups, targeted send-outs, and triggered responses.

3. The Callbox team also designed and tested the various landing pages used in the campaign, as well as optimized each email component..




1. The Callbox team came up with a call script designed to achieve all three campaign objectives.

2. Agents qualified every prospect with probing questions that identified their suitability and willingness to schedule an initial phone appointment with one of the Client's financial advisors.

3. The Client kept track of the campaign's results in real-time through Pipeline, Callbox's proprietary CRM and lead management tool.
Callbox carried out the campaign until all records in the Client's list were contacted and followed up. It took the team two months to complete the project. Most of the campaign's initial stages were spent on email outreach. Some key results of the campaign's email marketing activities include:
98.3% delivery rate

33.8% open rate

13.0% click-through rate
The campaign's 46 qualified appointments began trickling in near the end of the first month (17 appointments) and increased in the second month (29 appointments), as warm contacts during the email outreach phase started converting into qualified prospects.
While the Client hasn't specified how much of the 46 phone appointments it expects to close as new customers, the Client says the quality of conversations with the Callbox-supplied opportunities has prompted an upward adjustment to its pipeline growth forecast.
https://www.callbox.com.sg/wp-content/uploads/2019/02/CS_FIN_Expat-Focused-Financial-Planning-Firm-Expands-in-Niche-SG-Market.jpg
450
800
callbox
https://www.callbox.com.sg/wp-content/uploads/2020/07/callbox-logo.png
callbox
2018-06-29 13:06:51
2019-04-16 14:45:46
Expat-Focused Financial Planning Firm Expands in Niche SG Market
High-Growth SaaS Startup Boosts Momentum with Callbox Campaign
ABOUT
The Client is a Singapore-based software-asa-service (SaaS) company that develops and offers a transportation operations management platform primarily for SMEs in Southeast Asia. Its subscription-based cloud service provides collaborative planning, route optimization, driver dispatch, and e-signing capabilities for fleet owners.



TARGET INDUSTRIES
Third-Party Logistics (3PL), Transporters, Delivery Services, Courier Services, Movers/Moving Services, Field Services, Field Services

The Client helps SMEs better manage their fleet of land transport vehicles with its cloud-based logistics operations platform. The platform automates many of the challenges that businesses face in their logistics processes, such as handling job orders, tracking vehicles, allocating routes, planning schedules, and dispatching drivers.
Founded in 2012, the Client has experienced strong growth over the last three years, with annual revenues increasing 350% year-on-year. The company says around 100 organizations (including some Fortune 500 brands) across Southeast Asia now regularly use its system to process nearly 1 million delivery and pickup tasks.
After raising its seed round, the Client rapidly expanded its user base in Singapore and also gained additional subscribers in different locations across Southeast Asia. As part of its medium-term growth outlook, the company planned to increase its market share in Singapore and Malaysia, before focusing on Indonesia and other markets in the region.
With less than 50 employees (most of whom doing engineering roles), it was clear the company needed outside help in several business areas to let the company reach and sustain its revenue growth objectives. In particular, the Client wanted to outsource the time-consuming activities of researching potential customers and contacting them one by one for a sales appointment, which typically took up almost two-thirds of their reps' time.
RESULTS WITHIN TWELVE WEEKS
• Launched an integrated appointment setting campaign for a logistics SaaS startup that targeted SG and MY SMEs
• Helped the Client sustain its years-long high-growth performance
• Provided the Client with enough pipeline boost to meet a key business milestone
The Client chose Callbox as its outsourced marketing partner, citing that Callbox's extensive experience running successful campaigns for both cloud companies and logistics service providers in the APAC region gave Callbox the needed domain knowledge to operate in the Client's target market.
Callbox and the Client then drew up a campaign plan for a three-month appointment setting program with the following goals:
Pinpoint SMEs in Singapore and Malaysia that potentially need transport management systems (TMSs)

Connect with decision makers in these companies through targeted sales calls and emails

Introduce the Client's subscription-based TMS and book meetings with interested prospects

Collect additional information to help the Client gauge product-market fit
Some key activities from the campaign include:

1. Callbox prepared the list of Singapore and Malaysia contacts based on the Client's specifications (job titles, industries, annual revenue, and employee count).

2. The Client had already drafted its own call script and asked Callbox to review and contribute to the final version.

3. The Client wanted the Callbox team to prioritize setting office meetings for Singapore prospects and phone appointments for Malaysia contacts.



1. The Callbox team prepared all email templates used in the campaign, including the initial outreach email and targeted email send-outs.

2. The campaign's email specialists handled, tracked, and tested key email components, such as subject lines, copy, design, calls-to-action, and landing pages.

3. Email touches allowed the Callbox team to warm up and nurture prospects, as well as to follow up and respond to information requests.
The bulk of the three-month campaign's activities were carried out during the closing quarter of 2017 and early January the following year. Since Callbox campaigns typically start with email outreach to gauge prospects' readiness for a one-on-one sales call, the first 2 to 3 weeks saw mostly email marketing results:
Delivery rates between 96% to 98%

Open rates of up to 17%

Reply rates of 3.8% on average
The Callbox team started handing off appointments to the Client toward the end of the first month, and continued to deliver a steady supply of meetings throughout the remaining two months:
Month 1: 19 qualified appointments

Month 2: 20 qualified appointments

Month 3: 16 qualified appointments
The Client received a total of 55 qualified appointments from the three-month campaign. While the Client did not indicate how much of these prospects are expected to convert into opportunities or customers, the company mentioned that the 55 qualified appointments provided enough boost to its pipeline to help it meet a crucial business milestone in time for its pre-series A funding round application.
Get More Singapore Software Leads. Enquire Now.
https://www.callbox.com.sg/wp-content/uploads/2018/06/CS_SW_High-Growth-SaaS-Startup-Boosts-Momentum-with-Callbox-Campaign.jpg
352
800
callbox
https://www.callbox.com.sg/wp-content/uploads/2020/07/callbox-logo.png
callbox
2018-06-19 11:28:17
2019-04-15 12:28:37
High-Growth SaaS Startup Boosts Momentum with Callbox Campaign
HK-Based Industrial Supplier Widens Market Lead with Callbox's Help
ABOUT
The Client manufactures and distributes industrial supplies such as decorative stainless steel sheets and other ornamental products used in interior fit-out projects. The company's headquarters is located in Hong Kong, and it carries out the bulk of its manufacturing operations in Guangzhou, China.



TARGET INDUSTRIES
Roofing, Siding, and Sheet Metal Work; Fabricated Structural Metal Products; Miscellaneous Structural Metal Work; Elevators and Moving Stairways; Architectural Services; Building Construction, General Contractors, Operative Builders
Since 1988, the Client has been providing custom decorative building materials throughout Southeast Asia and Australia. Its products include colored stainless steel, decorative glass films, elevator decoration modules, and stainless steel fabrication. The company primarily sells to architects, designers, contractors, property developers, construction suppliers, and other industrial vendors in the region.
The Client says it relies on two key advantages to attract customers and set its products apart from competitors:
1. First is its broad sales and service network across the region, which enables prompt supply and delivery.
2. Second, the Client focuses on design customizability, so that products are tailor-made according to each customer's specifications.
Before the campaign, the Client's sales development model placed much of the prospecting and lead qualification burden on sales reps.
Sales was responsible for finding potential customers and booking introductory appointments with prospects, without much in the way of prior screening. Under this setup, the Client estimated that reps were spending less than a third of their time actually talking to prospects, which dragged down both sales productivity and the quality of the customer's buying experience.
Accordingly, the company has been planning to reassign lead generation and appointment setting responsibilities to its marketing team, but this department is mostly staffed by creatives who are already on tight schedules churning out product materials and sales collaterals.
It was clear that the Client needed to outsource prospecting and lead qualification. But since the company was selling highly-customized products across different geographic markets, the Client wanted to partner with an agency that had both industry knowledge and regional experience.
RESULTS WITHIN TWELVE WEEKS
• Completed successful appointment setting campaign that targeted prospects from key industries in six different APAC countries
• Helped the Client increase sales productivity by taking over most of its reps' prospecting responsibilities time window
• Provided the Client with sales intelligence to make conversations with potential customers more relevant and personalized
After a thorough selection process, the Client chose Callbox as its outsourcing partner. Callbox had an extensive project portfolio of APAC campaigns carried out on behalf of manufacturers and industrial suppliers, including campaigns that covered the Client's target countries.
Callbox and the Client worked out a three-month appointment setting campaign with the main goal of handing off qualified leads and appointments to the Client's sales teams based in Australia, the Philippines, and Singapore.

1. Callbox compiled the campaign contact list based on the location, SIC codes, job titles, and annual revenues specified by the Client.

2. The call script introduced the Client's decorative steel sheet products, and included probing questions that determined fit and need.

3. Contacts who agreed to a face-to-face or a phone meeting were handed off as qualified appointments. The Callbox team also identified and updated key decision makers and other prospect information.



1. The Callbox team prepared cold email templates that served as initial touch points before reaching out to prospects via phone.

2. The campaign also used targeted send-outs to distribute other marketing materials to contacts who wanted to know more about the Client's products.

3. Email automation schemes were created using the Lead Nurture tool, Callbox Pipeline's built-in drag-and-drop marketing automation platform.
The campaign ran for a total of three months (or 66 business days), with the first two months focusing on prospects in Australia, the Philippines and Singapore. During the third month, the campaign widened the target areas to include Indonesia, Malaysia, and Thailand.
Because Callbox follows a multi-touch, multi-channel appointment setting strategy, the first couple of weeks in this campaign are spent introducing the Client and warming up promising contacts through emails. Most appointments are generated after this initial phase, as shown in the monthly breakdown below (although the early outreach stage is repeated during the third month for the prospects in the additional target areas):
• Month 1: 14 qualified appointments
• Month 2: 22 qualified appointments
• Month 3: 12 qualified appointments
With the Client's reps spending more time talking to qualified prospects, the company believes it can increase its lead-to-opportunity rate to 75% and its opportunity-to-close rate to 50%. Using these benchmarks, the Client expects to potentially convert 18 of the Callbox-generated appointments into new customers this year.
https://www.callbox.com.sg/wp-content/uploads/2019/02/CS_MD_HK-Based-Industrial-Supplier-Widens-Market-Lead-with-Callbox-Help.jpg
450
800
Jayden
https://www.callbox.com.sg/wp-content/uploads/2020/07/callbox-logo.png
Jayden
2018-03-28 06:34:47
2019-04-08 08:43:10
HK-Based Industrial Supplier Widens Market Lead with Callbox's Help
About Us
Founded in 2004, Callbox is the largest provider of outsourced B2B marketing and sales support services for businesses and organizations worldwide. Using an account-based marketing approach in reaching a global database of contacts from over 35 million businesses, Callbox enables companies to establish and expand markets by connecting with prospects through six lead generation avenues: voice, email, social, chat, website and webinars.

To increase sales productivity, Callbox provides support to its clients by giving their sales teams access to a full stack of sales and marketing tools that drive up lead conversion. Equipped with decades of marketing expertise and powered by intuitive sales technology, Callbox helps companies grow their business exponentially.
This site uses cookies. By continuing to browse the site, you are agreeing to our use of cookies
OK
Cookie and Privacy Settings
How we use cookies
We may request cookies to be set on your device. We use cookies to let us know when you visit our websites, how you interact with us, to enrich your user experience, and to customize your relationship with our website.
Click on the different category headings to find out more. You can also change some of your preferences. Note that blocking some types of cookies may impact your experience on our websites and the services we are able to offer.
Essential Website Cookies
These cookies are strictly necessary to provide you with services available through our website and to use some of its features.
Because these cookies are strictly necessary to deliver the website, refuseing them will have impact how our site functions. You always can block or delete cookies by changing your browser settings and force blocking all cookies on this website. But this will always prompt you to accept/refuse cookies when revisiting our site.
We fully respect if you want to refuse cookies but to avoid asking you again and again kindly allow us to store a cookie for that. You are free to opt out any time or opt in for other cookies to get a better experience. If you refuse cookies we will remove all set cookies in our domain.
We provide you with a list of stored cookies on your computer in our domain so you can check what we stored. Due to security reasons we are not able to show or modify cookies from other domains. You can check these in your browser security settings.
Google Analytics Cookies
These cookies collect information that is used either in aggregate form to help us understand how our website is being used or how effective our marketing campaigns are, or to help us customize our website and application for you in order to enhance your experience.
If you do not want that we track your visist to our site you can disable tracking in your browser here:

Other external services
We also use different external services like Google Webfonts, Google Maps, and external Video providers. Since these providers may collect personal data like your IP address we allow you to block them here. Please be aware that this might heavily reduce the functionality and appearance of our site. Changes will take effect once you reload the page.
Google Webfont Settings:

Google Map Settings:

Google reCaptcha Settings:
Vimeo and Youtube video embeds:

Privacy Policy
You can read about our cookies and privacy settings in detail on our Privacy Policy Page.
Privacy Policy
Scroll to top