The most important thing for any startup business is to increase the number of leads generated. But in the business world with so many competition, how can a new business make sure it can survive and compete in the market?
The Internet plays an important role in helping new businesses reach out to their potential customers for business growth opportunities. If you are a startup company who doesn't have enough resources and experience, inbound and outbound lead generation campaign can be a bit risky. However, even if you are a new in the business or a small company, you can still compete with some of the big companies within your industry.
Having a website where people can go to raise brand awareness and attract new leads is necessary. But for startups who lack online presence can implement these 5 tips to generate sales leads for their business.
#1. Consider outsourcing your B2B lead generation campaign
New businesses don't have enough warm leads to nurture in their sales pipeline. If you want your business to grow, you'll need to delegate the lead generation to the experts and focus on more important tasks. B2B lead generation companies provide:
#2. Attend business events or seminars.
One of the main reasons why business owners choose to participate in an event is to generate leads. A business event is a powerful way to reach out to your prospective customers. It opens great opportunities for every growing business within their industry to create brand awareness.
Here are some pointers you could check into:
#3. Blogging
Even if you don't have a website, that shouldn't stop you from generating leads through blogging. Many marketers use WordPress for free blogging and reach out to their target audience. Blogs can be used as a lead generation machine. How?
Here's an example of a CTA used by GAP to increase their email subscribers.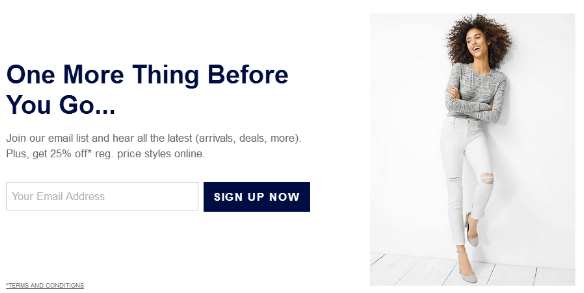 Provide informative content. When creating content, focus on the issues and concerns of your audience. Share successful stories that they can relate to with an emphasis on how they've managed to solve their problems.

Consistent blogging. By simply showing up on a regular and feeding your audience with informative contents encourages them to interact with you and engage in a conversation that could eventually turn into a sale.
Related: Shocking Statistics in Content Marketing in Asia [INFOGRAPHIC]
#4. Social media marketing
According to IDC, social media channels are used to build relationships with prospects throughout their sales cycle. 75% of B2B buyer's decision-making process was influenced by social media. However, marketers don't really use social media to sell. Instead, they use it nurture their prospects and eventually turn into a close deal by:
Building brand awareness.

Use these

FREE marketing tools

Creating a community of followers

Engaging with prospects and customers
#5. Referrals
One way to get more leads for your business is through word of mouth. Most buyers rely on the recommendations from a family, friends or a colleague. A referral is based on trust and credibility so it's the easiest way to convert these prospects into a closed deal.
Note: You need to provide a good customer service in order to be referred. Nothing beats a high customer retention.
R
Yes, small businesses or a new company can without a website generate as much leads as your competitors do. Whether you've decided to include outsourcing your lead generation campaign or have your own team to handle it for you, there are different ways to increase your sales. Follow these 5 tips to get more sales opportunities and close better deals even if you are a startup company who doesn't have a website yet.